Succeed in the trades – Discover, explore or refamiliarize yourself
Build your Skills is a
free

trade-specific learning resources, videos, tutors, online lessons, and more. Built for success to prepare for your apprenticeship, in-class technical training, and to succeed on the job
When you create an account on our Construction Training and Apprenticeship Ontario hub, you will gain access to our learning center and resources, which are brought to you by SkillPlan.
What are the benefits of starting a profile?
Starting a profile gives you access to our interactive learning center and resources where you can:
Build foundational skills with trade-specific practice problems

Practice your math, science and reading skills to prepare you for practical use in the trades

Watch training videos, get tutoring and more
Coming soon: learn about opportunities and connect to unions
How do I complete my profile?
Click Create an Account
Provide your first name, last name, email, level of trade experience and the trade you're interested in.
Check your email for a welcome message from CTAOtradeshub@skillplan.ca that includes your username and password to sign into your account. You should get this email within 24 hours or less. If you don't see it, check your spam or junk folder or email us directly at
CTAOtradeshub@skillplan.ca.
Click on the link in your welcome email and start exploring and preparing for your career in the skilled trades.
Anyone can create an account! The skilled trades industry is inclusive, rewarding, and constantly growing.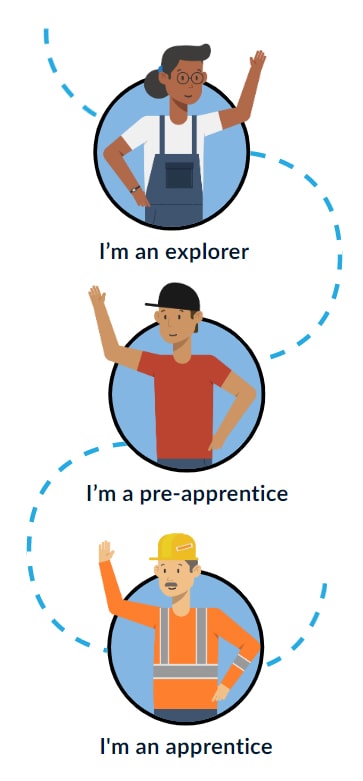 Access thousands of learning videos customized to your trade. Watch short videos that teach the key concepts in your training.
Make solving problems easy! Learn how to break complex problems into clear and easy- to-follow steps that you can manage on your own.
Know when it's time to move ahead or when to review a concept and watch a video tutorial.
Complete hundreds of interactive practice activities to reinforce and master what you've learned.